I woke up a little after 5 PM yesterday.  Thinking it was 5 AM today, I opened my email and found that my PP email was offline, so the site was down AGAIN.  I spent another two hours fighting with HSP tech support and convinced them to migrate Politics Plus to a new server.  The increase in speed and decrease in latency is stunning, so it looks like our problems are worked out.  This is today's only article.  I need a rest.  I'm current with replies.  Tomorrow appears routine.
Jig Zone Puzzle:
Today's took me 4:09 (average 4:58).  To do it, click here.  How did you do?
Short Takes:
From MoveOn: The Graphic That Needs To Be Posted On Every Congressional Facebook Wall Before November 6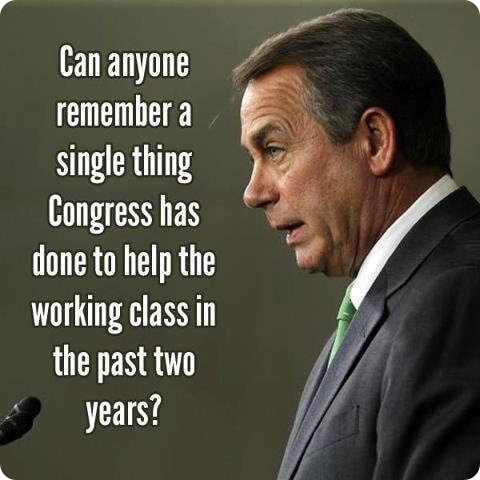 It's just as relevant on November 8.
From NY Times: Republicans don't have a Hispanic problem. They have an America problem, a country that is growing more diverse and, on a wide range of issues, shows a sensible moderation and social tolerance far out of step with radio ranting and Tea Party rigidity. It wasn't just Hispanics who heartily rejected Republicans on Tuesday. It also was African-Americans, Asian-Americans, young people and, to perhaps the greatest effect, women.
I'm proud to be in the minority of white men, who voted for community, not for whiteness.
From MSNBC: Lawrence O'Donnell trashed the de facto head of the Republican Party
Visit NBCNews.com for breaking news, world news, and news about the economy
Some things just never change! Another PhD in Bullshitology for Limbarf, and his audience says "BA-A-A-A-A-A-A-A-A-A-A-A-A-A-A!!"
Cartoon: