I'm starting early, because I couldn't sleep, but I know I'll tire early as well.  I'm current with replies.  Tomorrow appears routine.
Jig Zone Puzzle:
Today's took me 3:52 (average 4:55).  To do it, click here.  How did you do?
Short Takes:
From MoveOn: Bill Cosby Explains The Sad And Honest Truth About Obama's First Four Years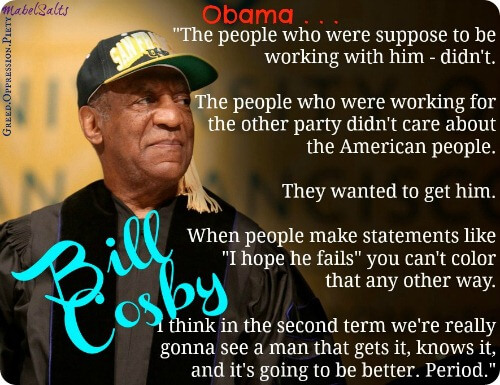 It is true that, far too often, congressional Democrats reacted in fear of how Republicans were trying to paint them. We need more party discipline. A good starting point would be changing the filibuster rules in the Senate.
From USA Today: He may have discouraged a post-storm presidential visit this week, but New York Mayor Michael Bloomberg endorsed President Obama for re-election Thursday.
His big issue: climate change.
"We need leadership from the White House — and over the past four years, President Barack Obama has taken major steps to reduce our carbon consumption, including setting higher fuel-efficiency standards for cars and trucks," Bloomberg wrote in a column for the Bloomberg News website.
This is probably the most significant endorsement of the entire campaign.
From The New Yorker: A new Mitt Romney is emerging in the closing days of the campaign, aides say: a man who is increasingly "being eaten alive with jealousy" by President Obama's budding relationship with New Jersey Gov. Chris Christie.
While Mr. Romney has told reporters that he is "totally fine" with Gov. Christie flying around in a helicopter with President Obama, privately he has told aides, "Seeing him with Chris Christie is tearing me apart."
Poor Little Lord Willard.  I wonder if he thought it was his turn to be the top?
Cartoon: