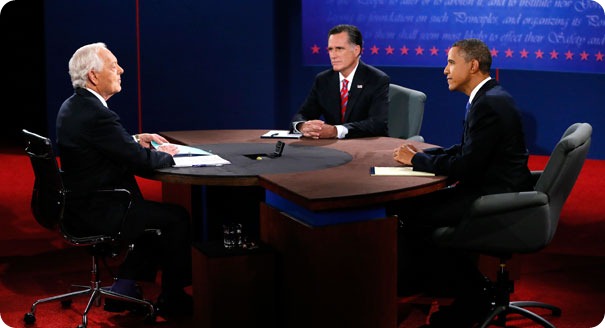 Photo credit: Politico
In last night, Barack Obama was the clear winner. He demonstrated that he has both a command of world affairs and a plan for the US within the community of nations. Willard Romney, on the other hand, demonstrated that he has neither. He was not comfortable in his own skin, as he parroted the same talking points over and over. He not only switched positions on most foreign policy issues, but he also disavowed ever having held the opposite view, prompting me to coin the term Mittzophrenia. In case you missed it, here is complete debate video.
If you prefer, here is the complete debate transcript.
Here are a few observations of mine. Romney repeatedly parroted the phrase that we "need to help countries reject extremism on their own." Only once did he suggest how he would do that. Trying to hijack Obama's policy as his own, he included supporting economic development, better education, and gender equality. I found this hard to imagine, since he goes to such great lengths to oppose these same policies here at home.
Romney was particularly maladroit when he referred to Syria as Iran's route to the sea. I can't fathom how this could be since Syria is almost landlocked and Iran has over 1,500 miles of coastline.
Obama was masterful, when he schooled Romney that we don't need as many ships as we did in 1916, since we also have fewer horses and bayonets, since capabilities count, not numbers.
Romney's arguments were sprinkled with lies, the most egregious being the false claim that he had supported government guarantees for US automakers. He said that he would charge Iran with advocating genocide, when the US does not recognize the World Court. He said that he has always supported tougher sanctions on Iran, while profiting from investments in companies that traded with Iran when Obama was trying to bring the world together on increasing the sanctions.
Obama did stretch the truth once. He said that Romney wants to import the "foreign policy of the 1980s, just like the social policies of the 1950s, and the economic policies of the 1920." I'm sorry, bit that's just too modern on social policies. The social policies of the 1850s would be far more fitting.
I am not alone in my view that Obama won the debate. According to the instant surveys, CBS gave it to Obama 53% to 23% among undecided voters, and CNN gave it to Obama 48% to 40% among likely voters.
I do have a complaint against Bob Schieffer, but it is not a partisan complaint. His questions kept covering the same limited ground, when there are so many other areas that could have been addressed, including the financial crisis in the EU, border security, immigration policy, global climate change, and the war on drugs.
One thing about the debate worries me. Anyone who was completely unfamiliar with Romney's foreign policy stances over the last two years would not consider Romney dangerous, as he kept parroting his dedication to non-military solutions, despite having beaten the war drums for two years. In fact, he is all the more dangerous, because he has no ideas of his own, so he will defer to his foreign policy handlers. These are the same neocons that brought us the ready, fire, aim policies of the Bush Doctrine, wars in Afghanistan and Iraq, and the intent to attack and conquer Libya, Somalia, Chad, Lebanon, Syria and Iran. Nothing could be more dangerous.