When GW Bush first introduced No Child Left Behind, I supported the idea.  It sounded sensible, and the statistical evidence he presented from his implementation of that program as Governor of Texas certainly appeared to demonstrate that the program was working well there.  I did not realize what Bush and his minions were doing to students in Texas to get those statistics.  It seems nothing has changed there.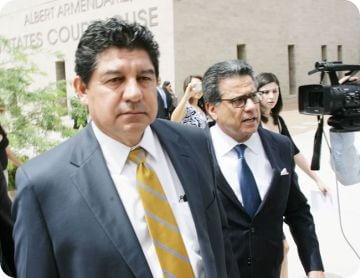 Former El Paso Independent School District Superintendent Lorenzo García, who pleaded guilty on Wednesday to federal corruption charges, conspired with six district employees to manipulate student testing and raise federal accountability performance, according to federal charges.
García, 57, who bragged about boosting test scores in the district, is scheduled to be sentenced on Sept. 14 after pleading guilty to cheating on state-mandated tests and for steering a $450,000 no-bid contract to one of his two mistresses.
The six people who helped carry out García's scheme to inflate test scores at district schools have not been identified.
Asked if those people would be charged with crimes, the FBI and federal prosecutors said the investigation is still ongoing… [emphasis added]
Inserted from <El Paso Times>
Don't you just love those Republican family values?
The way that Garcia was cheating to boost test scores was to push low performing students out of the public school system, thereby abandoning those who were most in need.  We shouldn't be surprised.  It's standard Republican policy to abandon the most needy of our citizens.  Furthermore, he learned from a master, because that's how Crawford Caligula produced artificially high test scores when he was Governor.  It's to bad they weren't investigating and prosecuting that then.
We need a balanced approach to investing in all America's students to build a work force prepared for the future, and that's what Obama and the Democratic Party offer.  Lord Willard and the Republican Party, on the other hand, want to privatize education to make the poor and middle classes pay for students at rich private and pseudo-Christian religious schools, while cutting education funding to give tax cuts to billionaires.  Which approach do you prefer?