Like the last two weeks, here is my 2012 election map with my projections.  Please understand that I am working with the election system we have, although I find that system to be grossly anti-democratic.  I shall cover how I would change it at end of the article.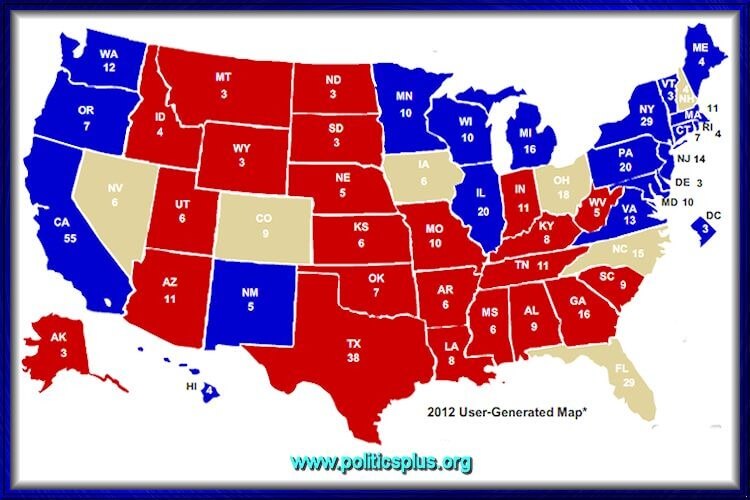 Map credit: 270 to Win
I moved Wisconsin back into the blue column, because Obama now leads by over 5%.  I also moved Virginia into the blue column for the same reason.  That makes the electoral vote count 260 for Obama and 191 for Romney, so Obama needs 10 more to win, barring changes, of course.
There are seven states too close to call, the two states I moves, and the latest poll averages.  I did make an adjustment to my calculations.  Ever since I was in opinion research I have thought that Rasmussen skews their results by using unrealistic populations.  I had hoped I could avoid doing this, because calculating the averages myself is a lot more work, but Rasmussen's results deviate so far from most other polls in many states, that I removed them. Other polls, whether liberal or conservative in their orientation, usually yielded results within a standard deviation of each other.
| | | | |
| --- | --- | --- | --- |
| Swing States |   |   |   |
| State | EV | Obama | Romney |
| CO | 9 | 48.5 | 45.7 |
| FL | 29 | 48 | 46.5 |
| IA | 6 | 48.5 | 43.5 |
| NV | 6 | 48.7 | 46 |
| NH | 4 | 46.5 | 43.5 |
| NC | 15 | 47 | 47.8 |
| OH | 18 | 49.2 | 44.4 |
| VA | 13 | 49.7 | 44.6 |
| WI | 10 | 51.8 | 43.8 |
Polling data credit: Real Clear Politics 
The remainder of this article remains unchanged from last week.
While I still consider Obama's reelection highly likely, that should not be cause for complacency.  There is no way for this projection to account for the votes that will not be cast, because of Republican measures to deprive legitimate Democratic voters of their right to vote.
Now, if I could I would change the system in two ways.  I would do away with the Electoral College and make the vote for President a national populate vote.  That would eliminate all the economic benefits of the election going to a few swing states.  It would also end the imbalance that makes a vote in Wyoming count over twice what a vote in California does.  Second, I would place plurality rile with true majority rule with preference voting in all elections.  Voters would cast ballots with their first second and third choice candidates.  If counting everyone's first choice does not produce a majority the ballots would be recounted, substituting the highest choice that made the top two for all voters whose first choice did not.  In that way we get true majority rule without stigmatizing third parties.
Every Vote Matters…
Especially Yours!