Today's articles are late, because I overslept.  Overnight my apartment dropped out of the 90°s, and cooler weather is expected over the weekend.  I'm current with replies.  Tomorrow I have work to do preparing for two days of prison volunteer work next week.
Jig Zone Puzzle:
Today's took me 3:39 (average 4:19).  To do it, click here.  How did you do?
Short Takes:
From MoveOn: Why So Secretive, Mitt?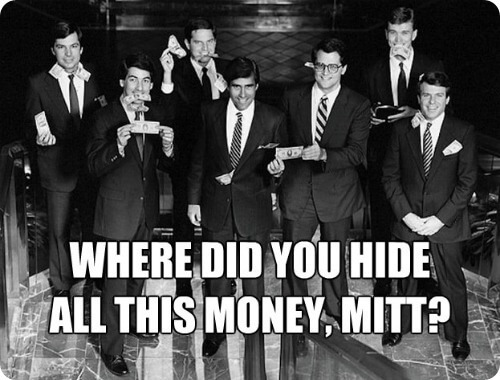 We need to know more.
From USA Today: President Obama is cutting a campaign trip in Florida short in the aftermath of a shooting spree at a Colorado movie theater that has left at least 12 dead and wounded dozens of others.
"President Obama will address the tragedy in Aurora, Colorado in remarks in Ft. Myers, Florida this morning," the Obama campaign said in a statement. "Then he will return to the White House. In light of the tragedy in Colorado, the event in Winter Park, Florida will be cancelled."
I have been in that theatre when I lived there. Thoughts and prayers for the victims and their families, please. As a culture we need to rid ourselves of the prime time TV notion that heroes should solve problems with violence, especially gun violence.
From CBS: Senate Republicans on Thursday killed a measure backed by President Barack Obama that would encourage companies to bring overseas jobs back to the United States.
The measure being pressed by Obama's Democratic allies is rich with political symbolism, but whether it would have had much practical impact on decisions by companies to "outsource" jobs to lower-wage countries is open to question.
More proof of Republican economic sabotage. No Democrats goose-stepped with the Republican Party.
Cartoon: