I'm still in pain, but it hurts whether or not I'm blogging.  I'm current with replies.  Tomorrow depends on what the day brings.
Jig Zone Puzzle:
Today's took me 3:41 (average 4:19).  To do it, click here.  How did you do?
Short Takes:
From MoveOn: WINNING! GOP Economics Explained In One Hilarious Graphic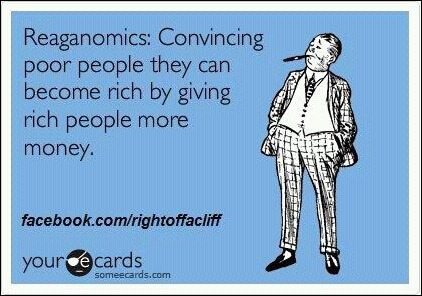 About some things, Republicans don't change.
From Bloomberg: First-time claims for jobless benefits fell last week to a one-month low, helping allay concern that the labor market may suffer an extended setback.
Jobless claims dropped by 1,000 to 367,000 in the period ended May 5, in line with the median forecast in a Bloomberg News survey and the lowest since the end of March, the Labor Department said today in Washington. The number of people on unemployment benefit rolls was the smallest since July 2008.
Despite Republican's best efforts to prevent recovery, slow improvement goes on.
From Opposing Views:
This morning Cher caused another stir on Twitter when she tweeted: "If ROMNEY gets elected I don't know if i can breathe same air as Him & his Right Wing Racist Homophobic Women Hating Tea Bagger Masters."
About a half hour earlier, Cher responded to a Twitter user who said she must have lost half of her fans. Cher responded: "Thank God I Got the half that thinks!"
This has to be one of the classic comebacks of all time.  Major kudos to Cher!
Cartoon: