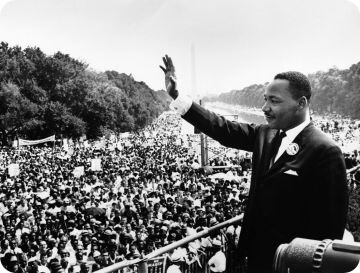 Martin Luther King, Jr. influenced my political thinking more than any other individual.  I was fortunate to have worked under him on Vietnam Summer and to have been present at two of his greatest speeches, presented below.  Many things have changed since those days.  Northern Republicans were often progressive.  Southern Democrats, aka Dixiecrats,  were the biggest racists then, but they deserted the Democratic Party because of Dr. King's successes and are now the Republican base.  But both his Dream and the need for his opposition to wars of aggression remain.  To celebrate his life, I have video of "I Have a Dream", delivered in Washington Mall on August 28, 1963 and audio of "Beyond Vietnam: A Time to Break Silence", delivered in New York on April 4, 1967.
I Have a Dream – Text
Beyond Vietnam: A Time to Break Silence – Text
The dream still lives.  Keeping it alive is our responsibility.