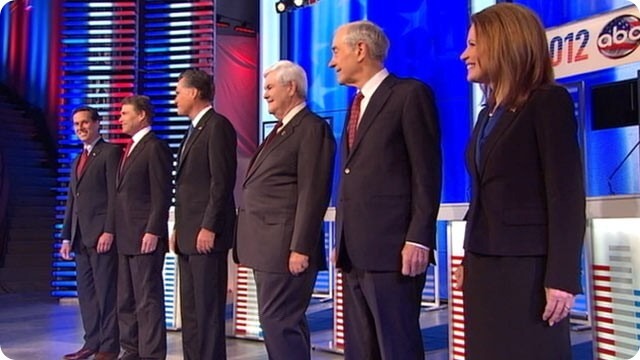 Yesterday I turned on the TV, and lined up my barf bags, backed up by my trash can, my pocket and my shoes, to watch the Republican debate.  The lies flowed like water.  Here are the notes I took in their raw format, with no attempts to polish the writing and just a little evaluation at the end.  I'll leave most of that to you.
Diane Sawyer opened by praising all six for their commitment to democracy.  That knocked out barf bag #1. She might as well have called Donald Trump a beauty pageant winner.
Diane Sawyer asked all six about jobs. She asked for the number of jobs they could create, a time frame for creating them and an idea. None of the six gave a number or a time frame except Romney, 11.5 million in a year. The newest idea was to blame Obama.  The rest date back to before Obama was President.
On the payroll tax cut, Bachmann and Santorum opposed and lied that it takes the funds from the Social Security trust fund. Romney and Paul supported but wandered into talking points.
Romney said Obama wants an entitlement society, while he wants a merit society.
Gingrich said he wants to expand the space program and doubled down on child labor.
Paul attacked Romney on "liberal" positions and taking money from Freddie Mac.
Bachmann accused Gingrich of being a lobbyist and Romney of inventing Obamacare. She called them Newt Romney. Perry backed Bachmann's accusations. All accused both Gingrich and Romney of supporting individual mandates. Santorum said that he alone supported Medical Savings accounts. He said that he is the only winner, despite having lost his last Senate race.
Bachmann promised to help elect a Republican supermajority in both houses of Congress.
Perry said voters should consider marital fidelity as a characteristic of a candidate's fitness to serve. Santorum, Paul, Romney, and Bachmann all agreed. Gingrich did too and said he has changed.
Gingrich said most undocumented immigrants should be exported, but said there could be exceptions, based on local citizen review. Romney said send to them all home and put them at the end of the line. Perry we should enforce existing law.
Are Palestinians an invented people, as Gingrich said? Paul said no. Gingrich accused Obama of acting like Israel has no right to exist. Romney said no, but we should support Israel's positions regardless. Bachmann ducked the questions and blamed the Palestinians for all the problems in the region. Santorum said that what Gingrich said is true, but imprudent. Perry blamed the press for blowing a minor issue out of proportion.
When did you last have to cut back on necessities? Perry said he grew up poor. Romney admitted to always being rich. Paul said it was when he was growing up. Santorum said he is middle class and never had to cut back on necessities. Bachman said it was in her teens. Gingrich said he was middle class, but had never gone without necessities.
What should government so about unhealthy habits? Paul said nothing, that government should not force anyone to do anything. Perry said it's up to the states.
What did you learn from one of your challengers on stage? Santorum said Gingrich had been his roll model when he first entered politics. Perry said that Ron Paul had gotten him interested in the Federal Reserve. Romney said Ron Paul has enthusiastic followers. Gingrich said Perry got him engaged as a tenther and Santorum got him interested in Iran. Paul ducked. Bachmann said Cain inspired her with 9-9-9.
There were no major gaffes.  I would say the debate had two winners.  First is Gingrich, because Romney needed to score significant points against him and failed to do so.  Second is Bachmann, because her attacks against both Gingrich and Romney were well presented and factually true.  The moderators failed thoroughly in their fourth estate duty.  They asked mostly softball questions, and did not even touch such important issues as Republican plans to privatize Social Security, replace Medicare with a coupon, and convert Medicaid to a state voucher program.  They also failed to touch on the huge inequity between the 1% and the rest of us.  They did not even mention Republican obstruction.  Therefore, the big losers in this debate are the American people, because ABC did notr do their job honestly.