Here are the results of our "Chamber Leader" poll.  Politics Plus Polls are not scientific, because those who respond are not balanced according to demographic categories.   Therefore, we do not accurately reflect the makeup of the US population.  Nevertheless, our polls are usually factually accurate, and more often than not, they reflect thinking or will of the national majority.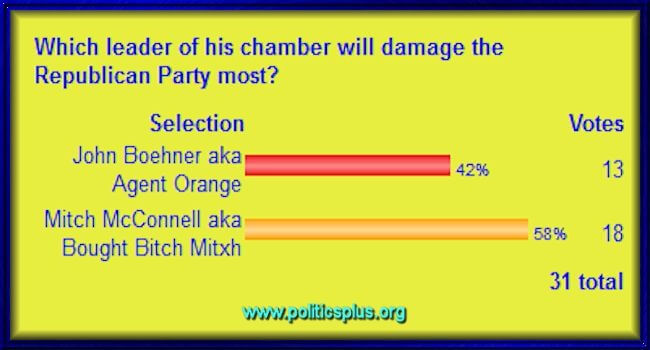 The site that hosts had disabled the ability to copy the comments, but you can still read them on their site.  To read your comments, click here.
I voted for Agent Orange, because he is a more frequent victim od TEAbuggery than Bought Bitch Mitch.

The new poll is up.  Especially if you were too lazy to vote in 2014, vote here now.  You need to learn how to make voting habitual.