A cat uses its tail not only for balance and as a rudder, but also as a method of a pretty sophisticated sign language all their own. And amazingly enough it's pretty consistent between all different breeds of cats.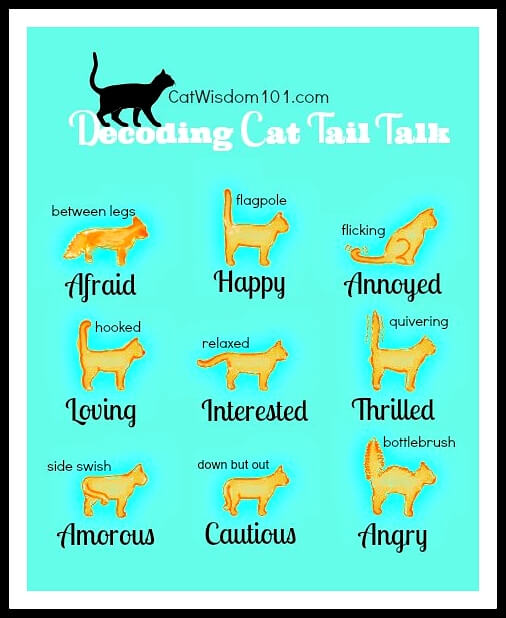 The Flagpole Tail
When your cat's tail is sticking straight up like a flagpole, it's a sign your cat is feeling confident and content. It's a sign of happiness and a desire to be friendly with you. And if you see the tip of an erect tail give a little twitch, it means they're enjoying a particularly happy moment.
This is particularly prevalent in kittens – it's like they're saying their first word, and it's "Momma!"
And the mother cat uses this position when she wants her kittens to follow her. Just like those guides holding up their sign when leading a herd or tourists around museums and other crowded venues – it makes them easier to spot.
But sometimes the upright tail can be given a brief, forceful and sudden jerk forward. This is a sign of irritation or derision – similar to giving someone "The Finger".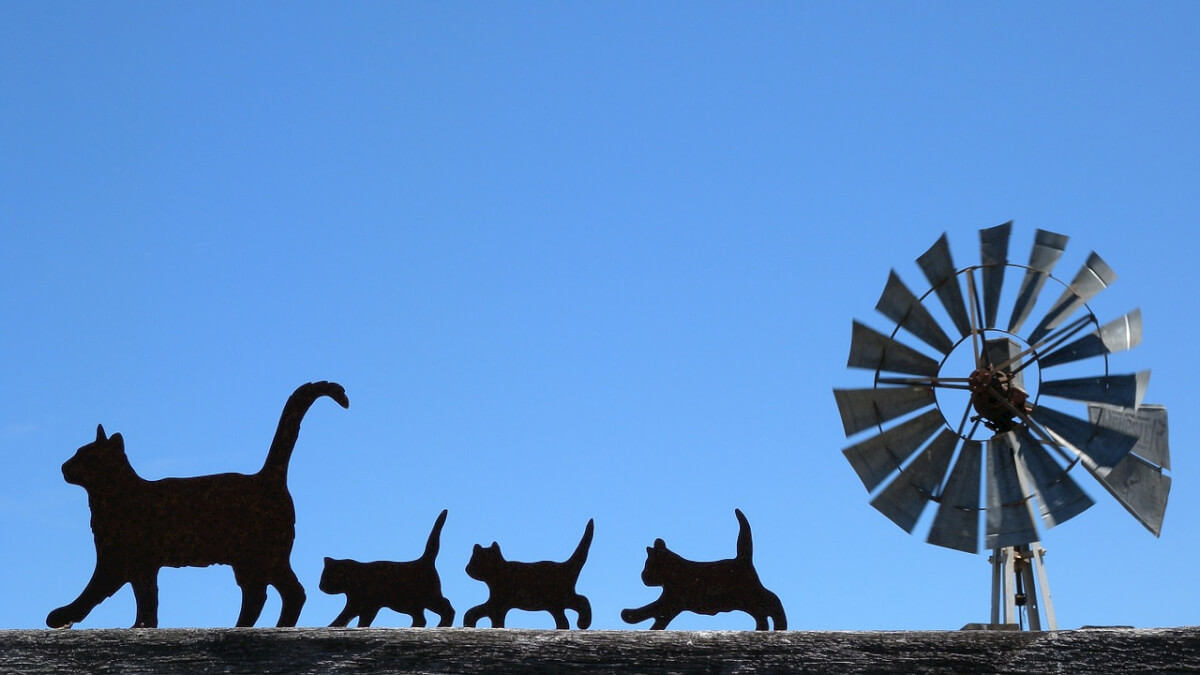 The Question Mark Tail
When it's curved like a question mark or shepherd's crook, this tail signals a friendly, playful mood. Your cat is relaxed and ready to share some fun with you. He's saying: "Some head scritches and ear rubs would be most welcomed!"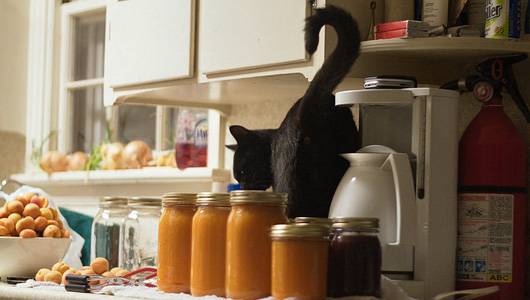 The Low-to-the-Ground Tail
When your cat's tail is held horizontally straight behind it, s/he is not certain what is going on, and is signaling that she's ready to either pounce or play. Probably best to go very slow and let your feline friend make the call of what her mood will be.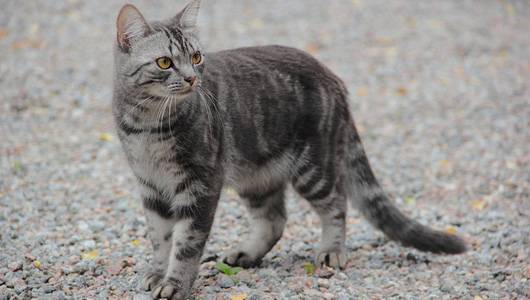 The Fish Hook or Horseshoe Tail
When the tail is held either horizontally or angled down a little and has a hook at the base, it's an early sign of defensive aggression or at least feeling feisty – like running around like crazy for no apparent reason.
(Sorry … Couldn't find a good example)
Swishing Tail
A tail that moves slowly and methodically from side-to-side is seen when your cat is focusing on an object – a bug or a toy. It's frequently seen right before they pounce.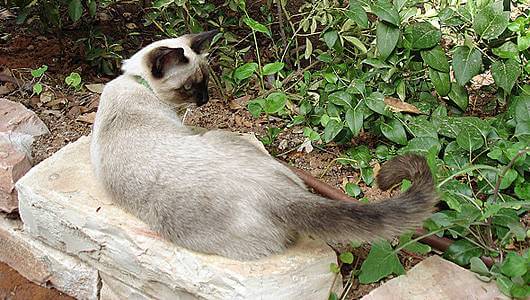 Thrashing Tail
This is a sign he's preparing for offensive aggression. When that tail whips back-and-forth – or slaps the floor – the critter is either irritated or fearful, and it won't take much to provoke full-throated aggression. Consider yourself warned!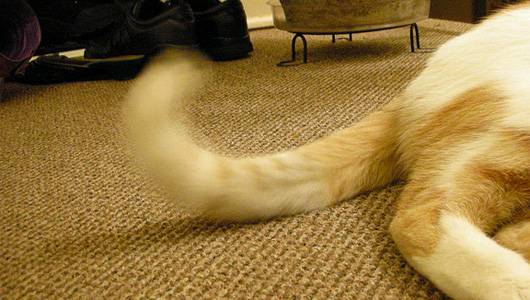 The Bottlebrush Tail
We're all familiar with this iconic tail – a tail of defensive aggression. The tail is poofed out as much as possible, and frequently the back is arched and the hackles are up. (Hackles are the special hairs down the middle of the back of animals – particularly cats and dogs.)
They do this in order to make themselves look bigger to their aggressor or perceived threat in hopes he'll back off – but is ready to take action if necessary.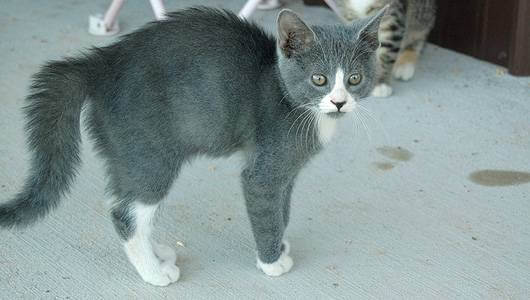 The Tucked Tail
We've all heard the expression about someone slinking away "with their tail between their legs."
So when your cat tucks its tail between its legs, it indicates submission – or at least uncertainty.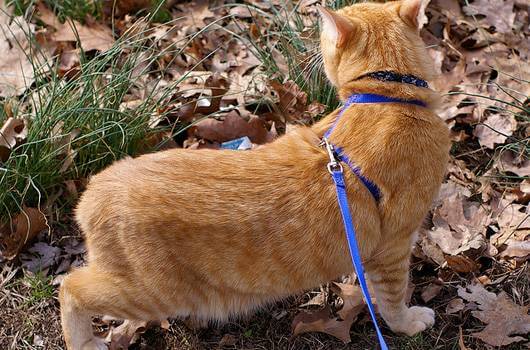 The Entwined Tail
Those cute kitty pictures we've all enjoyed clearly demonstrates a feline feeling of friendship. So when your critter wraps its tail around your leg or wrist, he's simply saying "I like you – let's be friends" … OR "How about feeding me some noms?"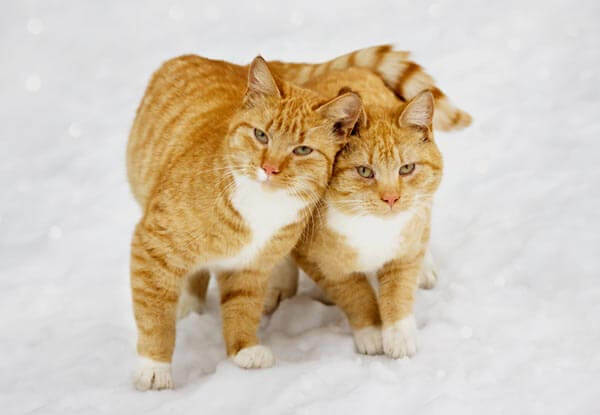 The Vibrating Tail
With its tail straight up in the air and quivering, your cat is telling you she's not only happy – but excited because she anticipates something good is coming … like FOOD!
The Stretching Tail
This is a two-part process …
The Fireplace Cat Tail
While sitting or lying down, their tails are wrapped around themselves – a sign of comfortable content … "All's right with the world."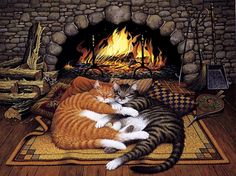 And this is the "Chestnuts Roasting on an Open Fire" variant …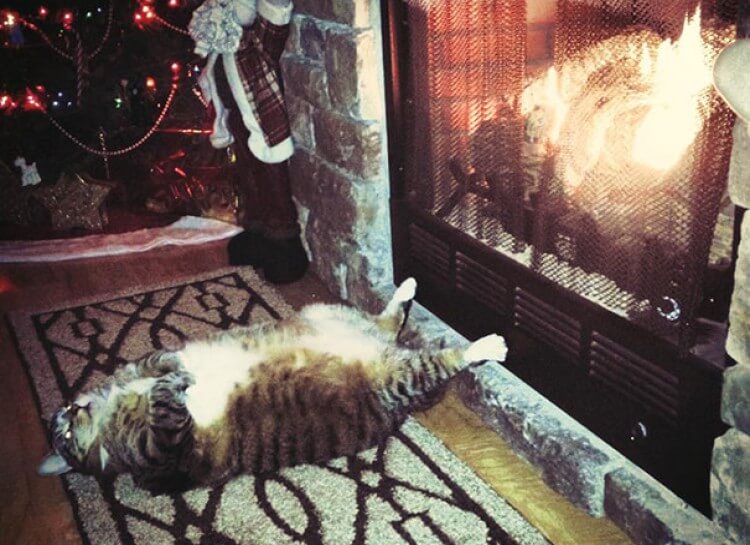 Resources
http://www.catster.com/cat-behavior/cat-body-language
http://jacksongalaxy.com/2011/10/18/the-tail-speaks-louder-than-words/
http://www.mnn.com/family/pets/stories/what-your-cats-tail-can-tell-you
http://healthypets.mercola.com/sites/healthypets/archive/2015/01/03/cat-tail-language.aspx
http://www.petforums.com/showthread.php/7922-cats-tails-and-body-language
http://catwisdom101.com/cat-tail-talk-101/
http://messybeast.com/cat_talk2.htm